A Day of Joy: Your Guide to Manhattanville Community Day on October 21
See what fun activities await, from film screenings to food sampling, and so much more. 
October 04, 2023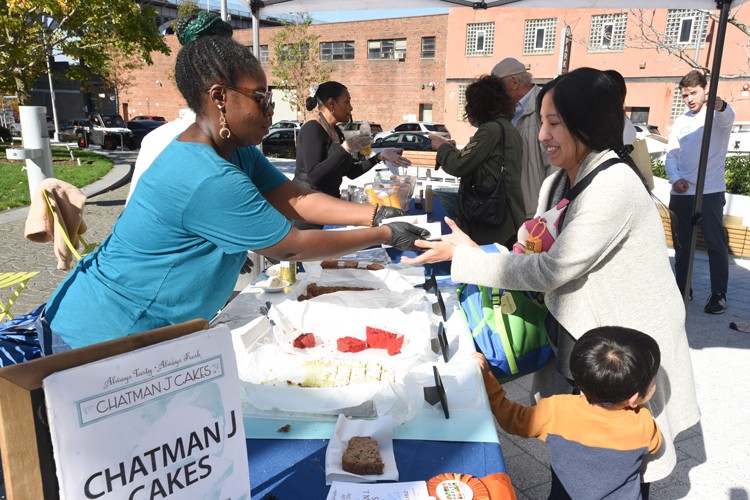 It's almost here! We are so excited to see community members come together for Manhattanville Community Day on Saturday, October 21, 2023, from 12:00 to 4:00 pm.
For first-time attendees, Manhattanville Community Day is a twice-annual day dedicated to celebrating our community Uptown, especially our neighbors in Morningside Heights, West Harlem, and Washington Heights. All of the events taking place during Community Day are free and open to the public, however, some may require advanced registration due to supply or space limits. 
To help guide newcomers and regulars through this Community Day's festivities, we've curated a list of questions and answers that should help you get acquainted with the day. We will be updating this page as more details on the day's festivities roll in. 
Have any additional questions about Manhattanville Community Day on October 21? Reach out to Columbia Neighbors at [email protected].
Where is Community Day taking place and where should I go when I arrive? 
Manhattanville Community Day takes place on Columbia's Manhattanville campus, which stretches west from Broadway to 12th Avenue, and north from 125th Street to 134th Street. 
Community Day officially begins at 12:00 pm, and the best place to start the day is at The Forum, located on the corner of 125th Street and Broadway, a community space open to the public all year long. Friendly volunteers and Columbia programs and resource teams will be seated right at the front of the building, waiting to help orient you on the day's activities.
You can spend time at The Forum before heading out further into campus to take part in the different activities. To see a full list of what activities are available during Community Day and where they'll be located, see below.
Do I need to bring anything?
Bring yourself, your friends, and your family!
Do I need to register ahead of time?
Registration is not required, but it is definitely encouraged. You'll get up-to-date information on any details regarding the day, including any changes due to inclement weather.
What other activities are available and where are they located? 
There are plenty of things to do on Community Day, from film screenings to sampling food from local vendors to science activities for kids—plus so much more. We've organized a guide to help you see the full list of activities and where they are located on campus, below.
The Forum (Community Day Entrance)
601 W. 125th St.
Live Music, Moving Screenings, Kids Programming, & Light Refreshments
1:00 - 2:30 p.m.: Bash the Trash – Instrument building workshop, performance, and parade
Community Tables in the East Atrium
Community Tables in the West Atrium
InTouch Community Health Workers program
Film Screenings in The Forum Auditorium
1:00 p.m.: Hocus Pocus, 1993 Dir: Kenny Ortega  runtime: 1 hr. 36 min.
3:00 p.m.: Taking Your Best Shot, Abstrak Vision Production runtime: 30 min. followed by Q&A with the filmmaker (register here)
There are two atriums at The Forum: the east atrium and west atrium. The east atrium acts as the official entrance to The Forum and Manhattanville Community Day, and will host community tables and light refreshments. The west atrium will host more community tables and live music, and is also home to the entrance of The Forum's auditorium, which will host film screenings throughout the day. 
Lenfest Center for the Arts
615 W. 129th St.
Lenfest Kids Double Feature
Room: The Katharina Otto-Bernstein Screening Room
12:00 pm: Belle
4:00 pm: The Nightmare Before Christmas
If you're looking for family-friendly films, make sure to check out the Lenfest Center for the Arts' Community Day Double Feature featuring two incredible animated films: Tim Burton's classic spooky tale, The Nightmare Before Christmas, and the luminous new Japanese anime, Belle, a contemporary version of the "Beauty and the Beast" fairy tale. Register here for Lenfest Kids screenings.
Wallach Art Gallery
615 W. 129th St. 
The Wallach Art Gallery, a public arts space and art museum located on the 6th floor of the Lenfest Center for the Arts, will host an arts activity station for youth.
Wallach Kids: Figures and Backgrounds 
Location: Outside Lenfest Center for the Arts on The Small Square 
1:00 - 4:00 pm 
On The Small Square, there will be an activity station that will teach kids how artists use spatial relationships between figures and backgrounds to create impactful images. Participants will also have a chance to add a drawing to the Wallach's mobile ornament station!
Jerome L. Greene Science Center
605 W. 129th St. 
Saturday Science: Actions and Reactions
Room: Jerome L. Greene Science Center, across from the VITAL Climbing Gym 
1:00 - 4:00 pm 
For family and kids who are science-enthusiasts, the Zuckerman Institute's Education Lab is inviting families and community groups to explore the workings of the brain through hands-on activities and unique scientific resources. This month's theme is "Actions and Reactions," and will include some fun prizes and giveaways! BioBus, the roving science education lab, will also be parked right outside of the Science Center on 129th Street for more fun science activities. Register for Saturday Science: Actions and Reactions.
Restaurant Crawl and Free Samples from Columbia-Harlem Small Business Development Center Clients 
Food sampling is wildly popular on Community Day—and for good reason. Whether you're a foodie looking to satisfy your craving for Uptown cuisine, or if you just want to be a part of supporting local business, there are plenty of vendors that are serving up free bites for visitors. 
For our Restaurant Crawl, you can taste fare from the nearby legend, Dinosaur Bar-B-Que, the campus' beloved café, Dear Mama, and the stalls of Manhattanville Market. 
Restaurant Crawl 
1:00 - 2:00 pm: Dinosaur Bar-B-Que (125th St. & 12th. Ave)
2:00 - 3:00 pm: Dear Mama Coffee (129th., bet. Broadway & 12th Ave.)
3:00 - 4:00 pm: Manhattanville Market (130th St. & Broadway)
If you're hoping to support clients of the Columbia-Harlem Small Business Development Center (SBDC), stop by Columbia Business School for some complimentary samples. The vendors will be outside on The Square from 1:00 - 4:00 pm, alongside local legend DJ Stormin' Norman who'll be serving up some sweet beats throughout the day.
Complimentary Samples from Columbia-Harlem Small Business Development Center Clients
Manhattanville Campus Map
Feeling ready to take on Manhattanville Community Day? Before you head onto campus the day-of, consult this handy map outlines where the activities will be held and where you can find them. See you there!