Community Scholar Explores Links Between Harlem's African American and Jewish Musical Cultures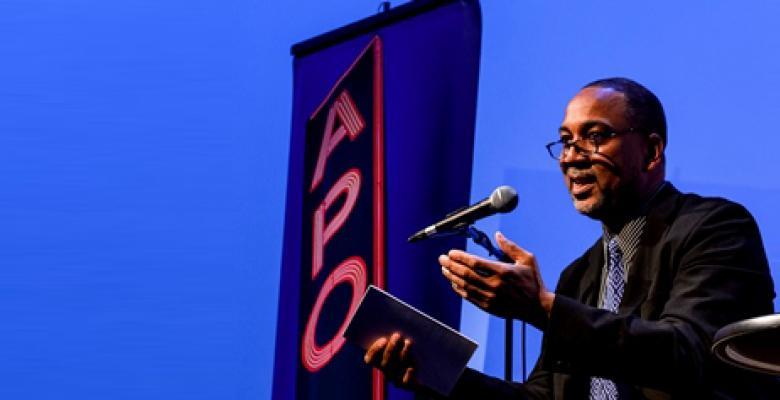 For John Reddick, Harlem isn't just a visual feast, it's music to his ears. The architectural historian, who leads walking tours of the Upper Manhattan neighborhood, has been researching the cultural connections between early 20th century music written by African Americans and Jews who lived in Harlem.
Reddick also is a Columbia Community Scholar, one of 18 northern Manhattan residents selected by the University to pursue research projects and develop their skills at Columbia. They audit courses, have library privileges and meet one-on-one with scholars in their fields.
The program, which is jointly administered by the Office of Government and Community Affairs and the School of Professional Studies, began in 2012. Reddick is now in his third year, and on Nov. 4 he will give the first Columbia Community Scholars Lecture at Faculty House at 6:30 p.m.
His topic is the many links between early 20th-century African American and Jewish music cultures in Harlem. He will discuss composers like James Reese Europe, a black bandleader who straddled the ragtime and jazz eras, whose orchestra was one of the first to give a jazz concert at Carnegie Hall in 1912; and H.T. Burleigh, a classically trained composer and singer who arranged and wrote hundreds of spirituals (In the 1920s, Burleigh also was a baritone soloist for the choir at New York's Temple Emanu-El.)
Such artists influenced the next generation of musicians to grow up in Harlem, including George Gershwin, Richard Rodgers and lyricists Lorenz Hart and Oscar Hammerstein. "If you read their biographies, they were going to these local theaters on West 125th Street," said Reddick. The ragtime music there was the hip-hop music of the day." He added, "Columbia is on the shores of this great history."
The transfer of identity and ideas was a two-way street. As a young vaudevillian, Sophie Tucker was forced to wear blackface until she refused, and audiences were shocked to find she was white and Jewish. Many of this Jewish singer's songs were written by black composers, including her signature song for over 60 years Some of These Days, written by Shelton Brooks, a fellow vaudevillian. In 1934, Gershwin adapted a story of black cultural life to create the opera Porgy and Bess.
Reddick says that Eastern European Jewish immigrants' sense as outsiders has parallels in the black community. "What better two groups are there to help create the American songbook?" said Reddick. "Psychologically, we all have something about ourselves that makes us feel like an outsider, so outsiders writing from that experience in the end touched everybody."
Related: Watch John Reddick's Lecture Titled "Ragtime to Jazz Time: Harlem's Black and Jewish Music 1890-1930"
That's not a feeling Reddick experienced growing up in the Mount Airy neighborhood of Philadelphia. "I was in a very integrated area and always feel blessed that this was my experience," said Reddick. "I had this comfort factor with others."
He received an architecture degree at Ohio State University and went to Yale for his master's, becoming a teaching assistant to Vincent Scully, an art history professor at Yale who influenced dozens of students who became well known architects. "He told us to look at the cultural life, not just the physical buildings."
Which is what Reddick does in his walking tours of Harlem where he discusses cross-cultural influences and connects musical and theatrical history to the architectural landscape. The tour recently included an exhibition of sheet music at the restaurant Settepani on Lenox Avenue.
"They were the album covers of their time," he said. It included sheet music from the 369th Infantry Jazz Band, led by Europe. As the band for the "Harlem Hellfighters," one of the first regiments in which African American men could fight for the Allies in World War I, they fought on behalf of the French. Its musicians played in concerts all over France, introducing jazz to military and civilian audiences.
After moving to Harlem in 1980, Reddick became a consultant for the Abyssinian Development Corporation, a nonprofit community and economic development agency and has since worked on several public space projects in Harlem, including the creation of Frederick Douglass Circle on the northwest corner of Central Park and the installation of a bronze memorial to author Ralph Ellison at 150th Street and Riverside Park, across from where the writer lived.
More recently, Reddick has been working with the Apollo Theater, giving talks and leading tours of the historic venue.
He recently gave a tour for the creative team behind the Marvel Comics series on Netflix Luke Cage, which is set in Harlem and features a black superhero. "I wanted to give them a flavor of the architecture and character of the neighborhood, including how people live, recreate and work there," he said. "There is an intimacy of the community that I sought to show them."
Article originally appeared in Columbia News on November 3, 2016.