Columbia University Reopening Update for Our Neighbors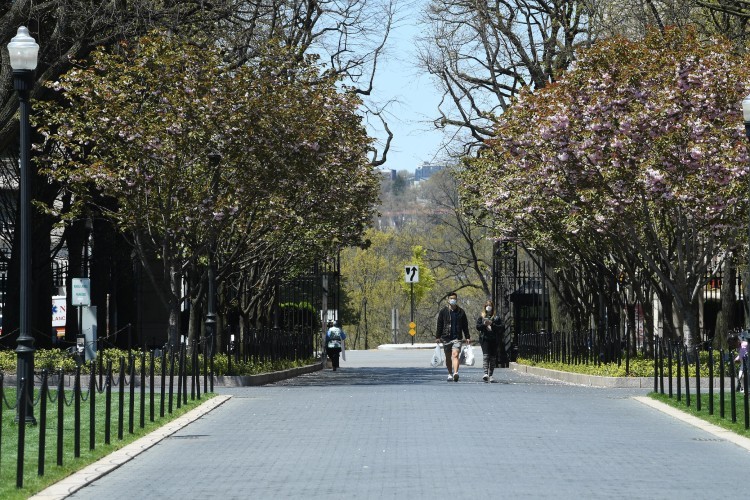 In early July, Columbia University President Lee C. Bollinger outlined a plan for the reopening of campus in the upcoming academic year. On August 5, we held a town hall to inform the Upper Manhattan community of our reopening plans, answer questions, and provide information to help prevent the spread of COVID-19. After consulting with community leaders, elected officials, the university community, and Columbia's leading experts in public health, on August 14, President Bollinger indicated a major shift in reopening plans by moving all undergraduate classes to a virtual format. While we wanted our undergraduate students to have a positive campus experience, it was clear that the state mandated 14-day quarantine significantly restricted the living and learning environment for our students, compromising their early educational experience. 
Even with these changes, we will continue to maintain the highest standards for pubic safety of faculty, staff, and students who will be on campus. All faculty, staff, and the limited number of students who will be on campus are expected to comply with mandatory trainings, testing, and ongoing public health guidelines as outlined online on the University's COVID-19 Resource Guide. On August 20, in response to inquiries from elected officials, we wrote a letter answering their pressing questions.
Please see our full reopening plan for more details. We have also developed a COVID-19 FAQ and have included answers to numerous questions from our neighbors, a sample of which can be found below.
Sample Questions
All students, faculty and staff are required to complete a mandatory training, COVID-19 test, and conduct a daily symptom self-check before entering campus premises. All students, faculty, and staff are also required to sign the Community Health Compact before returning to campus. 
While there are significantly fewer students who will be on campus due to the recent decision to shift undergraduate education to remote learning, the University fully expects all students, faculty and staff to adhere to the Community Health Compact.
In the interest of supporting community health and safety, anyone who does not adhere to these commitments after being asked to do so by an appropriate authority, as set out in the Enhanced Health and Safety Policy enforcement plan, will be asked to leave Columbia's campus.
All affiliates and non-affiliates can report complaints in a variety of ways, including:
Calling Columbia Public Safety
Calling the University compliance hotline
Using the "Report an incident" button on the websites of University Life, EOAA, and Student Conduct and Community Standards
Additionally, all affiliates can report complaints and concerns directly to responsible parties:
Staff to their Supervisor
Faculty to their department chair or Dean of Faculty Affairs
Students to Student Affairs staff
For more information, please visit  https://covid19.columbia.edu/content/enforcement-plan-enhanced-health-and-safety-policy
All students, faculty and staff are required to complete a daily symptom self-check, to be done every day before entering campus premises. Additionally, all students, faculty and staff are required to take an initial COVID-19 test prior to returning to campus.
Columbia will partner with the NYC Test and Trace Corps to ensure that appropriate tracing of any non-Columbia affiliate occurs.
The University has developed plans to collaborate with local health departments to trace all contacts of an individual testing positive, in accordance with the protocols, training, and tools provided through the New York State Contact Tracing Program. Notification to the state health department of any positive COVID-19 test will be made directly by the testing vendors. Confidentiality will be maintained as required by federal and state law and regulations. Responsible parties must cooperate with state and local health department contact tracing, isolation, and quarantine efforts. The University will employ its own contact tracers and will partner with local health departments. 
For more information, please visit https://covid19.columbia.edu/content/test-and-trace-program
All students, faculty and staff are required to complete a daily symptom self-check, to be done every day before entering campus premises. Additionally, all students, faculty and staff are required to take an initial COVID-19 test prior to returning to campus. The COVID-19 testing is at no cost to University affiliates. 
In addition to enhanced cleaning, the Office of Facilities and Operations has implemented several changes to improve health and safety on campus, including:
Converting restroom fixtures to operate automatically.
Starting with research-focused buildings, new touchless faucets and flushometers are being installed where possible to improve restroom hygiene. Installing hand sanitizer stations in campus buildings.
Sanitizing dispensers are located in main entrance lobbies, and the number of stations will be increased for all campus buildings.
Increasing steam cleaning of restrooms. Steam cleaning of restrooms disinfects without chemicals, using heat from steam to disinfect and kill germs.
The frequency of this process is increasing to once per week compared to monthly pre-COVID-19. This process is an enhancement to CDC and New York State
Department of Health guidelines For more information, please visit https://covid19.columbia.edu/content/covid-19-training-safe-practices-columbia
There are no large group gatherings being planned on campus for the Fall term. For any other event on campus, the University will continue to follow the New York State requirements for the size of permitted gatherings.  Keep in mind:
All events must adhere to the Columbia Community Health Compact, including requirements for face coverings, physical distance, and use of campus spaces and buildings. 
Event participation is restricted to CUID cardholders only and requires registration, and registration lists must be maintained by schools or units after events have taken place.  External presenters must follow the University's Vendor Clearance Policy.
Where possible, events should be held outdoors or in large, well-ventilated spaces.
If event organizers choose to serve food or beverages, both must be packaged for individual use (e.g. box lunches) and distribution must be planned to enable physical distance at all times.  Event organizers must ensure that attendees are able to maintain sufficient distance throughout and avoid facing each other while removing their face coverings to eat or drink.   If individuals bring their own food or beverages, event organizers must ensure that those eating or drinking are able to avoid facing others while their face coverings are removed, if unable to maintain physical distancing.  
Event organizers are responsible for ensuring that the planning takes account of the Compact provisions and that event attendees adhere fully to the Compact's face covering and physical distance requirements.
Student organizations must work with their advisers to ensure adherence to all other event policies.  Faculty and staff should consult with the point-person for events in their school or unit.
For Columbia University sponsored events held off campus, all of the above requirements apply. 
Individual schools may choose to have more restrictive policies than those described here.
Campus event spaces may not be reserved by or rented to external organizations or groups until further notice.
Columbia University will continue to follow state guidelines. For more information please visit: https://coronavirus.health.ny.gov/travel-large-gatherings-and-quarantines
The monitoring of metrics will inform scale-back or shutdown of activities, and will include daily number of COVID-19 cases in NYC and on campus; PCR positivity in NYC and on campus; Rt in NYC and on campus; and other indicators will be used to determine how the University will monitor and adjust its safety measures that might ultimately lead to a shutdown.
If the Rt on campus is greater than 1.0 and/or higher than the Rt in NYC by 50%, the University will modify campus density and restrict students to campus as well as reinforce face covering and physical distancing requirements. Testing frequency and approach may also need to be modified.
Community members who access College Walk and other outdoor areas of campus are expected to comply with New York State and University guidelines on mask-wearing and physical distancing, which are posted on signs at campus entrances.