Columbia Joins Mayor Eric Adams' Higher Education Consortium to Support Asylum Seekers in New York City
The model unites stakeholders in government, law, corporate, nonprofit, and university sectors to provide scaled pro se application support.
August 03, 2023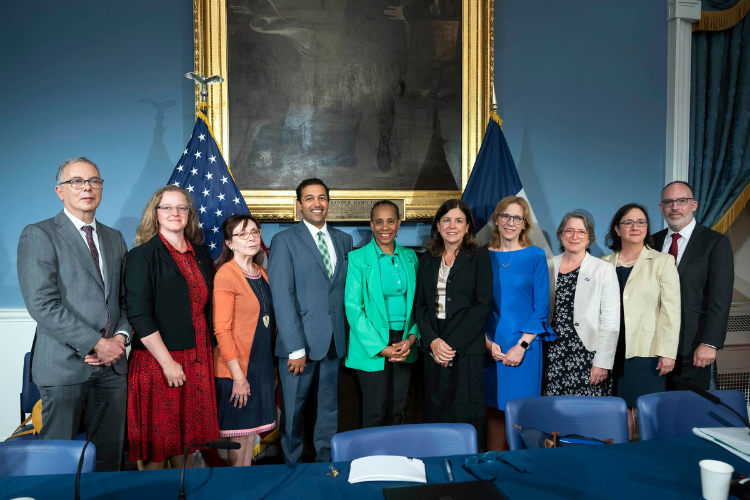 As an extension of his mission to deliver resources and relief for asylum seekers in New York City, Mayor Eric Adams announced the launch of a consortium of the city's cornerstone higher education institutions, through which undergraduate and graduate students will serve as application assistants at the city's Asylum Application Help Center. Columbia University's School of Social Work and Law School will take part in the consortium.
Led by New York University (NYU), the collective of institutions, including Columbia University, Baruch College, City College, Hunter College, Queens College, and New York Law School, will sponsor three full days at the clinic this fall by giving their students the chance to volunteer as application assistants. Additionally, many of the schools will offer students the opportunity to earn credit for time spent at the center, either in the form of courses or internships. In total, the sponsored days, for-credit courses, and undergraduate and graduate internships are expected to provide opportunities for hundreds of students to support thousands of asylum seekers in submitting their asylum applications.
"Asylum seekers arriving to our country are seeking to build the American Dream, and here in New York City, we are working to give them a shot at it," Mayor Adams shared in a statement released by the City of New York. "I am proud to announce that, in the little over a month since we opened our Asylum Application Help Center, we have assisted migrants submit over 1,300 asylum applications.
"Our innovative model is the first in the nation to combine government, private law firms, and nonprofits as they provide asylum application help at this scale. We want to thank the more than 30 private law firms that have been working pro bono to help with these applications, and we want to welcome some of the city's leading universities that have committed to providing undergraduate and graduate student application assistants to help volunteer with this task throughout the fall. This is an all-hands-on-deck issue, and we are doing what no one else has done: coming together from all corners of our city to help our newest New Yorkers get their applications in."
First Deputy Mayor Sheena Wright added: "This administration remains focused on finding innovative ways to meet the moment" and that she applauds "all the law firms and higher education institutions for answering the call and working with the city to find a pathway forward for asylum seekers."
Melissa Begg, Dean of the Columbia School of Social Work, shared that this initiative is in alignment with the school's vision of prioritizing human well-being.
"The primary mission of the social work profession is to maximize human well-being and ensure that all can thrive, no matter their life circumstances," said Begg. "This starts with meeting the basic needs of all people, with particular attention to supporting and empowering those who are vulnerable, oppressed, and living in poverty. Social workers are also specially trained to deliver trauma-informed care and to advocate for appropriate services.
"At CSSW, we hold firm to these commitments by ensuring that our students and alums have the opportunity to use their training to serve the communities that are most often pushed to the margins. We are proud to be part of the collective group of higher education institutions here in New York City that will support the city's efforts to provide safety and security for those seeking asylum."
Columbia Law School shared developing pathways to employment will assist families in creating a foundation for economic sustainability.
"Columbia Law School is proud to stand with immigrant New Yorkers who have experienced trauma and persecution in their home countries," read a statement released by the school. "Helping them to obtain status and employment authorization will enable them to move toward self-sufficiency and integrate more fully into the fabric of our communities."
The Asylum Application Help Center was cultivated at the end of June to help migrants complete and file asylum applications—a crucial first step towards applying for work authorization and developing economic opportunities for families. Since its inception, the center has helped over 1,300 asylum seekers submit applications.  
---
Visit the City of New York's website to learn more about the Asylum Application Help Center.