Columbia, Barnard, and Teachers College Launch 74th Annual Appeal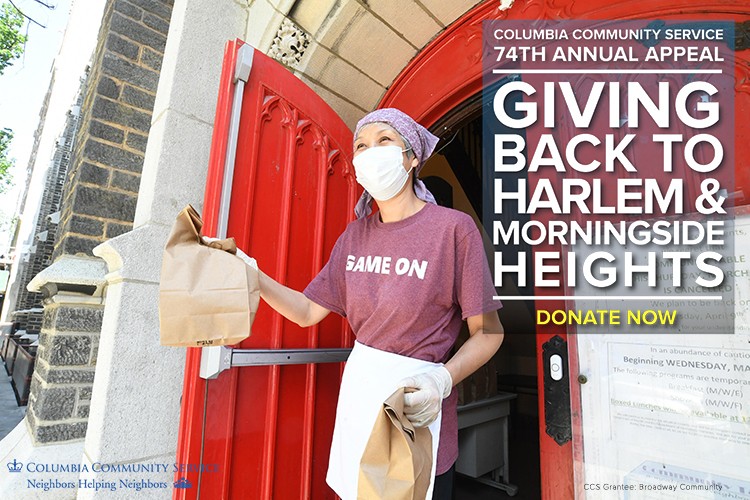 Dear fellow members of the University community:
It has been a year of unimaginable uncertainty, hardship, and loss for this University, this city, and our neighbors. Of the millions who have suffered since the outbreak of the COVID-19 pandemic, some of those struggling the most live in our community in Upper Manhattan, where more people have been sickened, died, or lost their jobs than almost any other part of the country. We are extraordinarily grateful for the outpouring of support shown by so many of you. In this period of darkness, your generosity is a source of great pride.
Columbia Community Service (CCS) is one of the remarkable programs that has stepped up in recent months. Soon after the pandemic struck, CCS launched the Columbia Neighbors Food Relief Fund, which helped distribute over 150,000 meals to our neighbors. This special campaign, the first of its kind for CCS, raised funding from individuals from every facet of the institution and ultimately led to collaborations with the Columbia University Irving Medical Center, longtime CCS partner The Cathedral Church of Saint John the Divine, and our own Columbia Dining, in an effort to meet the tremendous need. This is the sort of meaningful, responsive action—on top of the programmatic support that has long been CCS's hallmark—that we look forward to building on in the years ahead.
Today, we launch the Columbia Community Service 74th Annual Appeal with a commitment to redouble our efforts to fight hunger in our community, while supporting health and education services that promote literacy, STEM, and nutrition. Our goal is to raise $250,000 by December 31.
We write to thank all of the generous donors who already support CCS and to encourage those who have not yet joined our ranks to donate if you are able.
We are very excited about the direction CCS is taking as it enters its 75th year. We are proud to announce that we have partnered with the United Way of New York City in what we expect to be a transformative collaboration for the program. Our work together will begin in the spring and will bring fresh energy and thinking to every aspect of Columbia Community Service. Our priorities include expanding options for volunteers, increasing technical support for grantees, and making it easier for supporters to direct their donations to specific efforts and organizations.
As we continue to face the challenges of COVID-19 and its economic fallout, we ask you to join the CCS family of donors to support the Upper Manhattan community and our partner organizations that are delivering services on the front lines. Your support has never been more urgently needed—and CCS has never been better positioned to make an impact.
You can make your donation to the Annual Appeal and find more information on the program on the CCS website. Thank you for your time and consideration.
Sincerely,
Lee C. Bollinger       
CCS Chair           
President, Columbia University       

Sian Leah Beilock
CCS Co-Chair
President, Barnard College

Thomas R. Bailey
CCS Co-Chair
President, Teachers College