Columbia and NYC Parks to Tackle Toxic Summer Algae, Starting at Morningside Park
The research partnership will use Morningside Park Pond as a case study for curbing toxic summer algae blooms across the city. 
July 19, 2023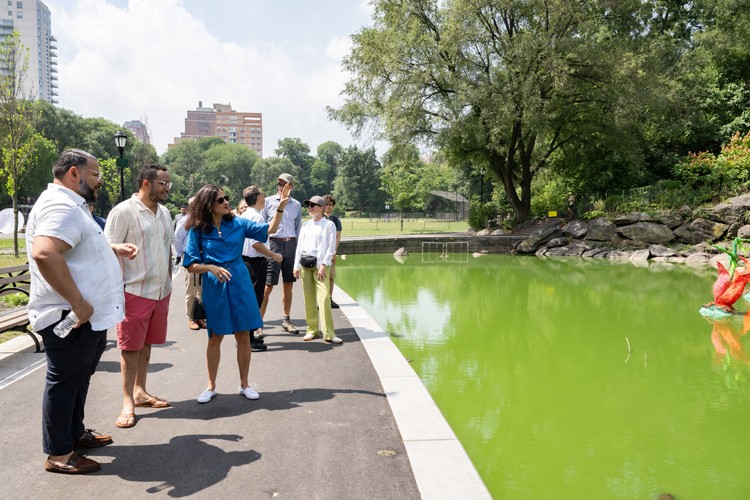 On July 15, amid the vibrant greenery surrounding Morningside Park Pond, a historic research partnership between Columbia University climate scientists and NYC Parks was announced. 
In the spirit of City of Water Day—a day advocating for a more climate-resilient New York—elected officials, the NYC Parks Department, Friends of Morningside Park, and Columbia University President Minouche Shafik and faculty, announced a new research partnership that will tackle the toxic algae blooms at Morningside Park Pond.
The algae—a seasonal phenomenon that turns clear water into a murky green—poses health risks to children and pets and has caused closures at the peak of summer. In this study, climate scientists from Columbia's Climate School hope to seek a city-wide solution to the algae starting with Morningside Park Pond, home to one of the worst algae outbreaks in the city.
Along with Columbia Climate School's algae remediation work, the Columbia Engineering School will aim to repair broken water pumps and restore a waterfall above the pond. This study will also create opportunities for community involvement, including learning opportunities for local students facilitated by Columbia's Teachers College and Friends of Morningside Park.
At Saturday's event, President Shafik spoke about the significance of Morningside Park for the University and its neighboring communities. "One of Columbia's missions is to apply academic expertise to real world problems and build partnerships with individuals, our community, and organizations beyond the academy. There is hardly a better example of this than the work we will do in our neighboring Morningside Park, providing hands-on learning opportunities for students at local schools while engaging our Morningside Heights and Harlem community partners." 
At the culmination of the event, the public had a chance to view the algae and other micro-organisms under a microscope in a demonstration led by Columbia climate scientists. NYC Parks Wetlands Team within the Natural Resources Group also provided pamphlets and other educational materials for the public to learn more about the initiative.
Among the event's attendees were New York City Council Member Shaun Abreu, Manhattan Borough Commissioner of NYC Parks Anthony Perez, and President of Friends of Morningside Park Brad Taylor. 
See the photos from the landmark announcement below.