Barnard Students Launch Community Arts Bin in Washington Heights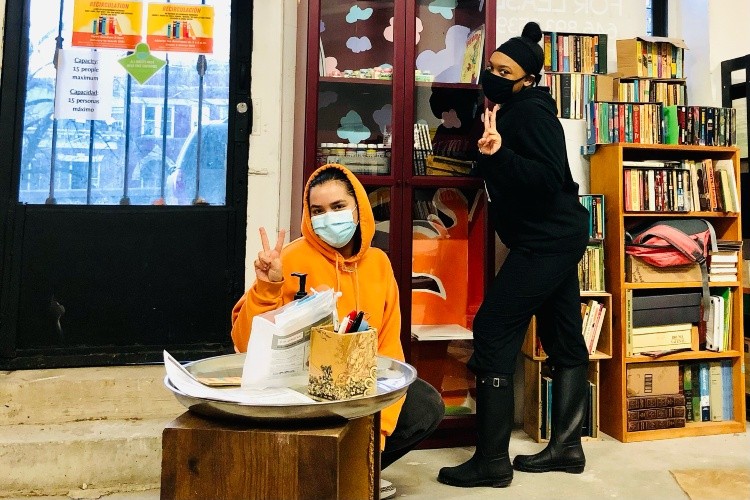 Last month, arts supplies became a little easier to find in Upper Manhattan thanks to Barnard College juniors Carolina Jimenez and Sheila Warrick, who were determined to make more creative resources available in their Upper Manhattan neighborhood. 
Inspired by the community fridges that have been popping up across the country to offer free fresh food, the first community arts bin is stocked with markers, paint brushes, yarn, sketchbooks, construction paper, and more as a no-cost resource for community members. While there have been various efforts in Upper Manhattan to combat the financial impact of the COVID-19 pandemic with the creation of hubs for the exchange of free resources, the students were surprised that the arts had been overlooked. 
"We haven't seen [a community arts bin] before," said Warrick. "We don't know why we haven't seen it, especially because mutual aid has become so much more popular or known about during this pandemic." 
The Word Up Books-run space at Riverside Drive and 160th Street that houses the arts bin is also a home to a host of other free resources such as CDs, vinyl records, and miscellaneous items. Books are also for sale on a pay-as-you-wish basis. For now, the space is open on Wednesdays, 5:00-8:00 p.m. and Sundays 3:00-6:00 p.m. with plans to extend the hours in the future. During business hours, the bin is also open for donations. 
Jimenez and Warrick, natives of Washington Heights and Harlem, respectively, conceived of the arts bins while working on a much bigger project to create a local community center for creativity and wellness. While planning for the launch of the center they wanted to do something more immediate that demonstrated their core values.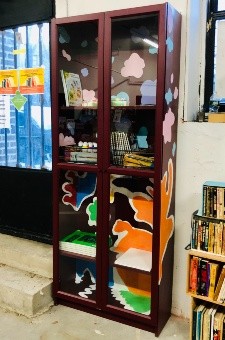 "We were having the conversation of: 'Okay, we know that the center is not going to be built tomorrow, so what can we do now that really demonstrates what we want to do and shows the community what we value, what we're interested in,'" said Warrick. "We were just kind of mentioning things and I was like, 'What if we do a community fridge, but for art supplies?'"
Jimenez and Warick first reached out to various art supply retailers and secured donations from a few different stores, including BLICK Art Materials, the national art supply chain with a store in Central Harlem. Then, they followed up by emailing local bookstores and art galleries to gauge their interest in housing a bin. In a flash of serendipity, they received a reply from Veronica Santiago Liu, the founder of Word Up Books, a community-centered bookstore and arts space in Washington Heights that provides a host of resources and events for residents in Upper Manhattan.
During the pandemic, Word Up Books shut down operations, but eventually reopened with a focus on community outreach by providing mutual aid and partnering with New York City Health and Hospitals to provide COVID-19 testing. Recently, Santiago Liu soft-launched an auxiliary space at 876 Riverside Drive, about nine blocks from the bookstore, which is on Amsterdam Avenue and 165th Street. Santiago Liu, a graduate of Barnard's class of 2002, thought the community arts bin was a perfect fit. 
"When Carolina and Sheila wrote with this idea, that it's sort of like a community fridge but for art supplies, I thought it was brilliant. Besides your event that sells a book, you also just need all the stuff that gives you respite, that gives your mind space to clear," said Santiago Liu. "Being able to provide hands on resources for that, with the pressure off that it is free to take, that you can give back to it if you want later, I think that it was a really great idea." 
Jimenez and Warrick are excited to continue growing and they have many more ideas for programming that they would like to execute.
"Right now, we're applying for grants, hoping to secure more funding, but typically we have a couple more initiatives that we hope to launch next. One is a community photo session," Jimenez said. "That's when people from the community can come in, get headshots or they can take pictures for their small business or just come in and take a personal shoot."  
The pair also hope to launch a virtual apprenticeship program that allows older and younger creatives from the community to collaborate virtually on a capstone project, but she anticipates that they will need additional funding in order to provide stipends. "The thing is, we want funding to be able to pay people for their labor [and] to get people to participate in programs... Right now, what we're focused on."
Ultimately the community center will function as the home-base for their yet-to-launch non-profit organization, Uptown Community Cooperative (UCC), which will focus on fostering creativity, wellness, and health for youth in Harlem and Washington Heights. While Jimenez and Warrick continue to search for more funding opportunities, they are happy to know that their community arts bin is already easing mental health needs in the community.
"Creative resources and just having creativity as an outlet does so much for your mental health," said Jimenez. "To know that it's helping others in some capacity with their mental health and tapping into their creativity, it means a lot to me."
---
You can shop from or donate to the Community Arts Bin at 876 Riverside Drive and 160th St. on Wednesdays from 5:00-8:00 p.m. and Sundays from 3:00-6:00 p.m.