5 Things You Should Know About COVID-19, Other Viruses from the Community Health Workers Town Hall Series
Here are five takeaways on COVID-19 and other viruses from the panel at November's Community Health Worker Town Hall.
January 23, 2023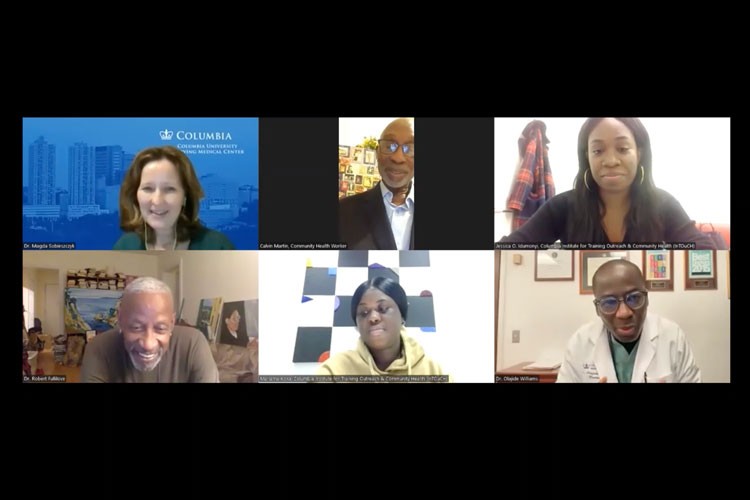 In a recent town hall for community health workers, a panel of medical professionals from Columbia University Irving Medical Center (CUIMC) and NewYork-Presbyterian shared their latest knowledge on COVID-19 and other viruses that have been in the headlines lately.
The event was the most recent Community Health Workers Town Hall Series, which started in 2021 to help dispel misinformation about the pandemic and bridge the connection between the public and the medical center. Since then, the series has invited specialists, doctors, and health workers to discuss issues ranging from COVID-19's impact on mental health to post-COVID conditions, also known as "long-COVID."
Questions on the current status of the pandemic were at the core of the most recent discussion. The panel also clarified questions about the updated bivalent booster, the Paxlovid pill, and poliovirus, while sharing personal anecdotes from the field and helpful resources for the community.
Stay tuned for the next panel, which will be held on February 9, 2023, on Zoom. 
Below, we gathered the five biggest takeaways from the November town hall. 
1. COVID-19 is still a concern, but hospitalization rates are much lower than they were a year ago 
Though infections have remained at a steady rate nationwide since February of last year, the hospitalization rate is much lower than it was a year ago. 
"People are being admitted for other conditions, not so much for COVID," said Dr. Magdalena Sobieszczyk, chief of infectious diseases at CUIMC. "But many of these patients that are admitted are actually testing positive when they arrive." 
Due to a mix of partial immunity, vaccinations, and continued public safety measures like masks, the panel is seeing less severe symptoms in their COVID-19 patients.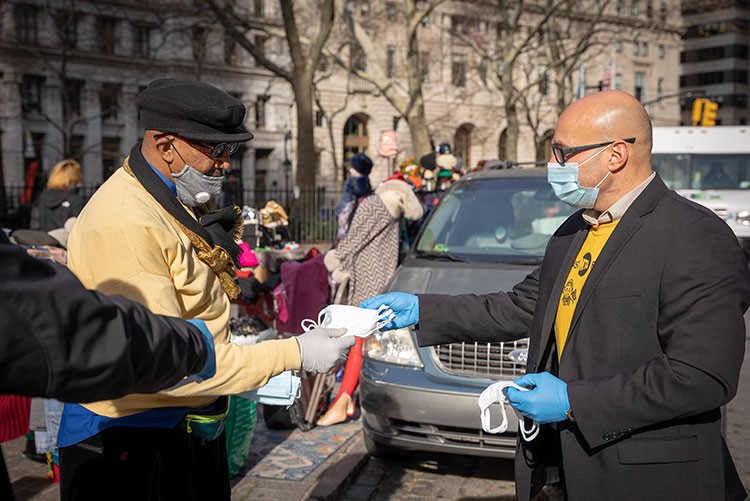 2. COVID-19 vaccines are here to stay for the foreseeable future
Vaccination and boosters remain the best way to protect yourself against the COVID-19 virus. 
"A majority of the population will need a shot every year, like a flu shot," said Sobieszczyk. 
For immunocompromised populations, Sobieszczyk said it is possible they might need more frequent vaccinations to keep building up their immunity. Those who are vaccinated but have not received their booster were encouraged to skip ahead to the updated bivalent booster. 
"The bivalent booster contains two versions of the coronavirus: the original strain and the omicron subvariant," explained ​​Dr. Olajide Williams, professor and chief of staff of the department of neurology at Columbia University Vagelos College of Physicians and Surgeons. "The first booster only protected against the original strain, and there are more subvariants circulating this winter." 
3. The Paxlovid pill is prescribed to lessen the symptoms of already-infected patients
The panel clarified a critical difference between the COVID vaccines and the Paxlovid pill. 
"The vaccine is preventative, but Paxlovid is prescribed for patients who already have COVID-19 to shorten symptoms and help prevent hospitalization and death," said Sobieszczyk.
She also pointed to recent studies, stating that "the Paxlovid pill and the vaccine have about the same effectiveness in preventing hospitalization and death."
4. There is a test to determine whether or not you have poliovirus antibodies – but it doesn't ensure immunity 
The spread of poliovirus has caused concern among those who aren't sure about their current vaccination status.
"There is a test that can detect if poliovirus antibodies exist in your bloodstream," said Sobieszczyk. "But it won't necessarily tell you whether you are 100% protected against polio — your antibody count can be present, but low." 
Listeners were encouraged to consult their doctors about their poliovirus vaccination history before requesting an antibody test. 
5. Seniors need to be up-to-date on flu, pneumonia, and shingles vaccinations to ensure their health and longevity
It's critical for seniors to be vaccinated against infectious and potentially fatal diseases, especially as the immune system weakens with age. Panelists recommended that seniors prioritize getting three vaccines: the seasonal flu shot, pneumonia, and shingles. 
Seniors should also receive a high-dose influenza vaccine, which has higher levels of antigen, for added protection against the virus. In addition, they may also need to be vaccinated for hepatitis B if they live or frequently travel in spaces with a high risk of exposure. 
To see the full discussion, visit CUIMC's Office of Government and Community Affairs website to watch a recording. Join the next Community Health Workers Town Hall on February 9, 2023 to keep updated on the latest on COVID-19 and other viruses.