3 Manhattanville Auditing Program Participants Share Their Columbia Classroom Experience
The program allows residents of Upper Manhattan to audit selected Columbia courses at no cost.
November 07, 2022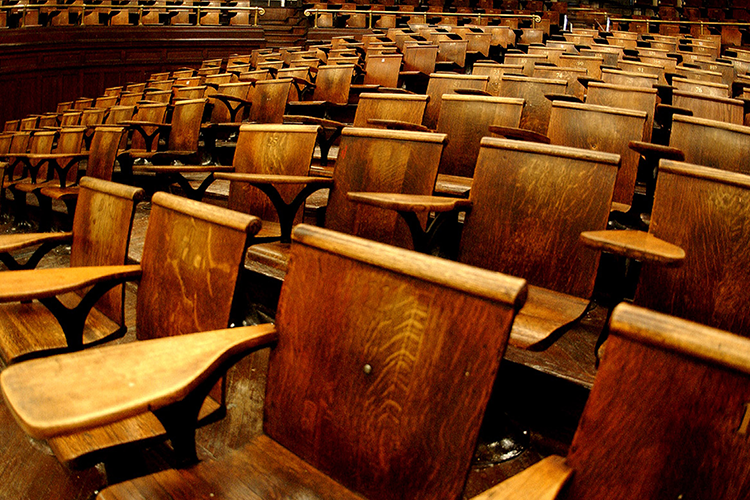 When Nia Bediako moved to New York City from Jamaica at age 16, she one day hoped to attend Columbia University. The retired Citibank vice president of consumer banking didn't attend for undergrad, but when a colleague from Citibank told her about the Manhattanville Course Auditing Program and the courses available to residents of Upper Manhattan and the South Bronx to audit at no cost, she jumped at the opportunity. 
"It was a full circle moment for me, to be on campus," Bediako said.
The Central Harlem resident has been auditing courses since 2019, including a logic course that she said finally cemented what she'd learned in undergrad more than forty years earlier. Her favorite course so far? Middle Eastern Studies with Dr. Rashid Khalidi, Edward Said Professor of Modern Arab Studies.
"I use what I learn in class in day-to-day life," Bediako said. "I'm president of my block association and I'm considered a community leader, so every opportunity I get, I like to share knowledge with all groups of people I meet: Black, White, Asian, Latino, happy, and not-so-happy people. I tell them to apply."
What Are the Benefits of Auditing?
Manhattanville Auditors have the opportunity to learn professional skills in marketing, accounting, and nonprofit management courses, or they can take a liberal arts approach and seek out classes in comparative literature, philosophy, and even biology and linguistics. 
Courses available to auditors change every semester. When taking courses, auditors are silent participants but keep up with assigned course readings and are present for every class session to soak in all the learning.
Roy Byrd, retired computer science researcher and Morningside Heights resident, has been a part of the program since 2018. He said the history courses help him think about the state of the world, the science courses help him feed what he calls a "life-long quest" to understand the surrounding universe, and the music courses help him learn more styles and techniques as an amateur musician.
His favorite course so far? "Physics for Poets."
"Throughout my career, I always planned to 'move to a college town when I retire,' in order to remain intellectually vital and entertained," Byrd said. "Living near Columbia helps me achieve that and the courses are part of the intellectual stimulation."
Bediako also mentioned the camaraderie that comes with being an auditor as well as the energy that comes from being on campus with young people.
Joyce Polistena, a semi-retired art historian and Morningside Heights resident, has been auditing courses since 2019 and calls the classroom experience "pure pleasure."
"The first two times I audited, I said 'Oh my god! This feels great,'" Polistena said. "I am not the professor here and I am not responsible for teaching content but I can listen, learn, and take notes. Just a wonderful experience."
Her favorite courses? Ones that offer a new perspective on her areas of expertise, such as "The Philosophy of Romanticism" with Professor Axel Honneth, or completely different areas of study, such as "Persian Poetry."
It is just such a wonderful opportunity," Polistena said. "For one thing, it is conveniently located, but also the expertise of the professors is a great benefit and a huge attraction. As an academic myself, I couldn't imagine going through life without continuing to learn."
Who Can Audit?
The Manhattanville Auditing Program is a community benefit available to the residents of the Manhattanville and Grant Houses, as well as community residents living in the following qualifying zip codes in Upper Manhattan: 10025, 10026, 10027, 10029, 10030, 10031, 10032, 10033, 10034, 10035 (including Randall's Island), 10037, 10039, 10040 and the following zip codes in the South Bronx 10451, 10454, 10455, 10474.
HERE'S HOW TO PARTICIPATE
Advice for Community Auditors from Auditors
If the registration process seems daunting, Polistena has some concerted advice for would-be auditors: "Log in to your Columbia email frequently. Any questions, confusion, or frustration, get in touch with your advisor."
Once auditors apply and are accepted to the program, they are assigned an advisor who will help them navigate Columbia's admittedly difficult class registration system.
Programs & Resources for Our Neighbors
Byrd adds: "My advice: be sure that you're logged in, with a stable internet connection, right when registrations open in the morning."
Bediako stressed the importance of following the rule of not speaking in class unless a professor explicitly invites input from auditors. 
And on a fun note, Byrd offered this final tip:
"Treasure your student ID card! It gets you into museums, discounts in local stores, and gives you access to Columbia buildings."
At the end of the day, the auditing program can be a source of great energy for participants.
"I look across campus and I see this flurry of activity and creativity," Polistena said. "It is beautiful to be a part of it."