16+ Summer Festivals Happening in Uptown NYC That You Should Check Out
Celebrate New York City's vibrant music, art, and cultural scene Uptown at these summer festivals, from Summerstage in Central Park to Harlem Week. 
July 14, 2023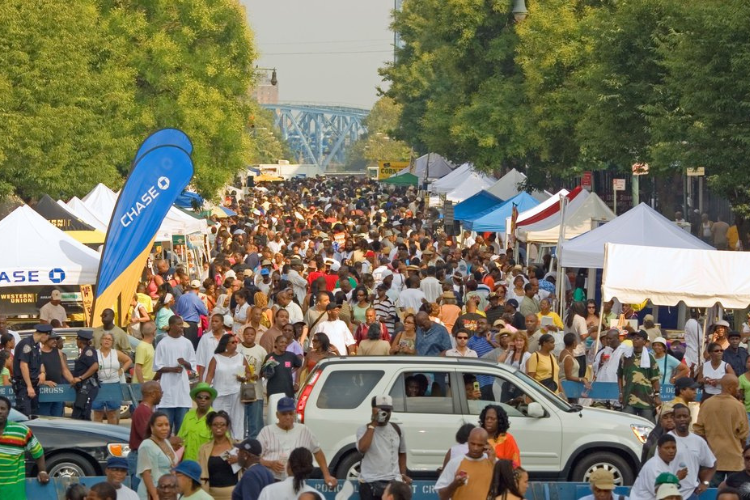 No summer in New York is complete without a visit to a summer festival. From intimate outdoor performances to mainstages headlined by the world's biggest artists, there's almost too much to fit in our schedules this summer—and we're only halfway through the season!
Though New York's biggest festivals get plenty of love, some of the best celebrations are happening right in our backyards, streets, and parks. Whether you're based Uptown or planning a visit, we put together a list of summer festivals in the area that are celebrating everything from music and food to arts and culture. 
Know of a summer festival in Uptown that we should include here? Send us an email.
Date & Time: June 14 to August 12
Price: Free or pay-what-you-can
Location: Lincoln Center: 150 W. 65th St.
Summer for the City at Lincoln Center is back to celebrate the cultural communities of New York City with hundreds of free and public events. From dance to music to spoken word, there are artists from all kinds of genres and performance types that will be bringing their work to the famed cultural institution all summer long.
Date & Time: July 5 to September 23 
Price: Free
Location: Varies
Summerfest is a summer-long festival and celebration of jazz organized by Jazzmobile, a Harlem-based organization. "We present the legends and the greats, but we also give opportunities to emerging artists who are world-class musicians in their own right," Executive Director Robin Bell-Stevens told Columbia Neighbors in May.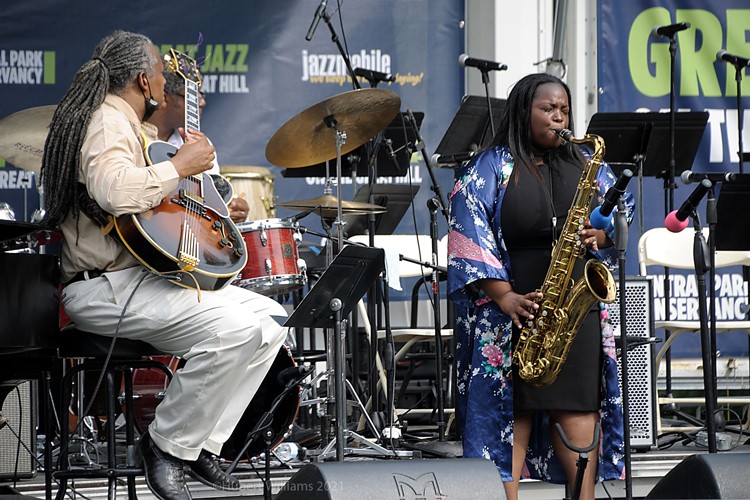 Date & Time: July 13 to September 30 
Price: Varies
Location: Rumsey Playfield in Central Park: E. 71st St. and East Dr., and other city parks
For Summerstage's 37th season, the summer staple is bringing nearly 80 free and benefit performances, as well as a special celebration of the 50th Anniversary of Hip-Hop, to Central Park and other locations. The artists that will grace the stage come from genres spanning salsa, jazz, indie-rock, country, bhangra, afrobeats, opera, and more. 
Date & Time: July 16
Price: Free
Location: Join virtually or in person at the Naumburg Bandshell: West 72nd St.
Disability Unite brings people together to share their message, "People with Disabilities are proud, we're loud and we'll work together to make ourselves known." In celebration of community and to commemorate the 33rd anniversary of the Americans with Disabilities Act, Disability Unite will be presenting the Disability Unite Festival 2023, complete with speakers, performances, dance, art, and other fun activities. 
Date & Time: July 16, 11:00 am - 7:00 pm
Price: Free
Location: 99th St. between 2nd & 3rd Ave.
Keep Rising to the Top is a non-profit dance organization that helps aspiring dancers achieve their dreams. To encourage wellness through dance, the organization is partnering with choreographers, dancers, artists, and health and wellness companies to bring a wealth of resources and entertaining performances Uptown. 
Date & Time: July 16 - October 15
Price: Free
Location: Melba's Restaurant: 300 W. 114th St.
Every Sunday, from July to October, you can expect a live music festival with your soul food brunch over at Melba's Restaurant in Harlem. The Summer WEG Fest Music Series gathers fellow music enthusiasts to dance, sing and connect with the community and enjoy the summer vibes as different artists come together to perform at Melba's. 
Date & Time: July 19 to August 20
Price: Free
Location: Varies
Returning for its second season, Rise up NYC is back with eight free community concerts that will be performed across the five boroughs. Starting at Wingate Park in Brooklyn and ending in St. Nicholas Park in Harlem, the concerts will amplify local artists and encourage New Yorkers to support small local businesses near the concert venues.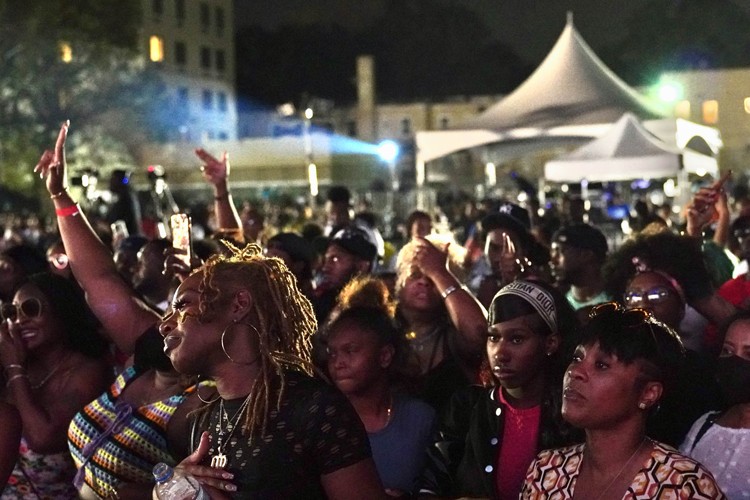 Date & Time: July 20, 7:00 pm 
Price: Free
Location: The Harlem Flophouse: 242 W. 123rd St.
Are you a comedy lover? This dynamic festival will feature talent from the worlds of stand-up comedy, theater, and original music, taking place in the historic Harlem Flophouse. Artists will have an opportunity to connect with fellow creatives, industry professionals, and enthusiastic comedy-lovers to foster the growth of the arts Uptown. 
Date & Time: June 20 to August 8 
Price: Free
Location: The Italian Academy at Columbia University: 1161 Amsterdam Ave. 
Looking to enjoy a concert on campus? The Sounds of Summer Fest at The Italian Academy at Columbia University is a free lunchtime concert series that features up-and-coming New York City artists curated across genres. Don't miss these afternoons full of live music, free giveaways, and delicious snacks. 
Date & Time: July 28 to July 30
Price: Tickets start at $55
Location: Randall's Island
The Harlem Festival of Culture is a three-day celebration founded to create an inclusive and diverse cultural hub for innovation, cultural expression, economic growth and community resilience. This exciting event features a star-studded lineup, with headliners A$AP Ferg, Teyena Taylor, and Wyclef Jean. 
Date & Time: July 29 to July 30 
Price: $5 - $34
Location: Exodus |: 178 E. 124th St. 
Landmark Festival is a two-day celebration paying homage to some of New York City's most iconic Hip Hop landmarks. Complete with DJs, live performances, a record fair, vendors, live painting, and more, the festival is a continuation of the exhibition Landmark that debuted in Tribeca in January.
Date & Time: August 9 - August 20
Price: Free
Location: TBA
Harlem Week is an annual celebration of the best of Harlem, promoting its rich African-American, African, Caribbean, Hispanic, and European history, as well as arts, culture, religion, business, entertainment, and sports. The event has grown from one-day to a month-long festival, and now is a 10-day live and virtual event.
Date & Time: August 11 to August 20
Price: Tickets start at $28.52
Location: The Schomburg Center: 515 Malcolm X Blvd.
The Eighth Annual Hip Hop Film Festival pays tribute to the diverse narratives that have shaped Hip Hop and music culture over the past 50 years. Going beyond rap music, the festival will provide a creative platform for artworks that explore the people, places, lifestyles, and events that have contributed to the genre.
Date & Time: August 20
Price: Free
Location: Charles A. Dana Discovery Center in Central Park
Enjoy a day of dance and summer vibes with Los Pleneros de la 21 at the Harlem Meer Summer Festival. Founded in 1983, Los Pleneros are an intergenerational ensemble that creates infectious sounds combining the raw percussion elements of the Puerto Rican Bomba and Plena genres with contemporary and urban styles. 
Date & Time: August 25 to August 27
Price: Free
Location: Varies
The Charlie Parker Jazz Festival, New York City's annual salute to the eponymous late saxophonist, will return in its 31st year for a three-day celebration of live jazz in the neighborhoods near where Parker worked and lived, including Marcus Garvey Park and Tompkins Square Park in the East Village. 
Date & Time: September 23, 10:00 am - 6:00 pm
Price: Free
Location: Adam Clayton Powell, Jr. Plaza: 163 W. 125th St. 
The Harlem Book Fair will celebrate its 25th year with a two day celebration, starting with the Black Authors Hall of Fame Inaugural Induction Ceremony as its opening event. Bouncing back with their first post-pandemic public event, the fair will consist of author readings, book talks, author signing sessions, storytelling, and live music.