The Columbia Newsletter Spring / Summer 2019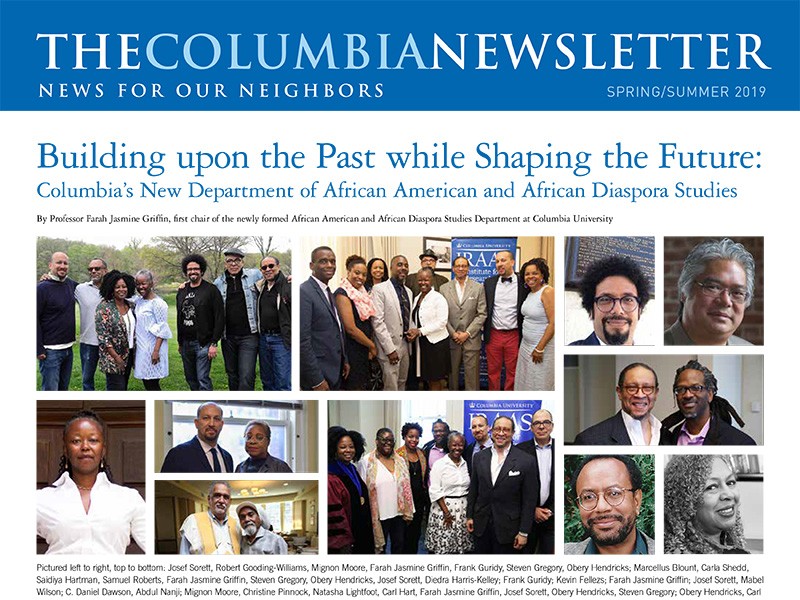 Columbia University's Office of Government and Community Affairs publishes The Columbia Newsletter: News for Our Neighbors as a resource for our constituents in Northern Manhattan.  Our purpose is to provide news from the University and beyond that our readers will find useful and engaging.
In this issue, we feature the new African American and African Diaspora Studies department at Columbia, which aims to build on an existing connection with the Harlem community to work on important issues. We share the story of the partnership between the Columbia and Harlem Wellness Centers, we highlight the plans to improve disability access on the Morningside campus, and we check in with the Connecting Youth Initiative about the work being there done to help at-risk youth. We also share the work being done to support the families of babies with hearing loss at the Center for Community Health Navigation; we share an update on the 125th Street BID's partnership with the Manhattanville campus; we showcase the Columbia-Harlem Small Business Development Center on the occasion of their 10th anniversary. Finally we highlight activities and announcements of interest, such as the Columbia Community Service Nancy Rupp Community Scholarship recipients and death of Dean Emeritus Peter Awn. In addition to these stories, as always, we list some of the services provided by Columbia University to our neighbors in the surrounding community. 
I hope that you find our newsletter of interest and value to you and your constituents. If you have any questions, comments, or would like additional copies, please contact our Editorial Coordinator, Bashar Makhay at 212-854-0684 or [email protected].