Neighbors Newsletter - Winter 2021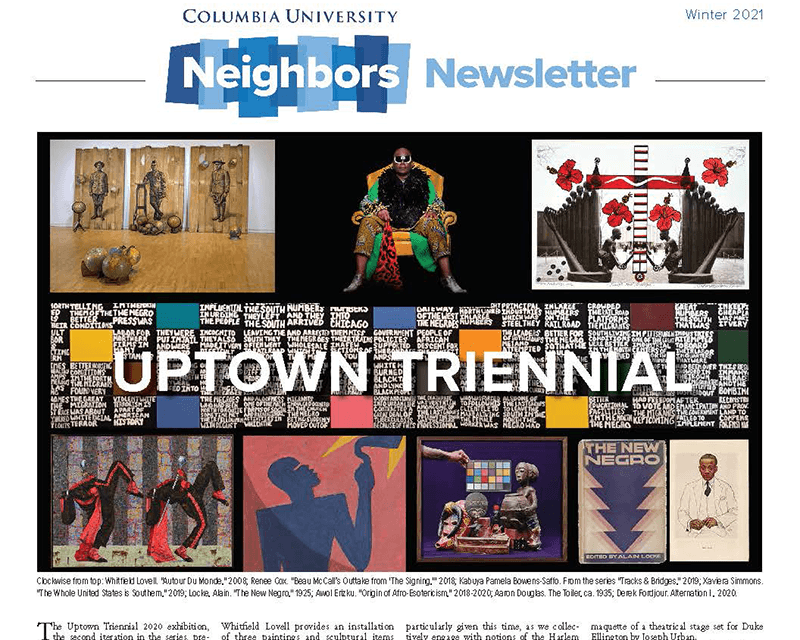 In this issue, we feature the Uptown Triennial 2020 exhibition, the second iteration in the series, presented the work of contemporary artists in dialogue with the Harlem Renaissance, a defining moment in American modernism and African American cultural history, during its centennial year. We showcase Shop & Dine Local, a resource for finding locally owned restaurants and other small businesses in Harlem and Morningside Heights. We highlight the 8th Cohort of A'Lelia Bundles Community Scholars at Columbia University and celebrate the career of Victoria Mason-Ailey, Columbia's AVP for Planning and Community Affairs, as she retires.
We detail the University's response to the pandemic, as well as sharing announcements about key personnel changes and campus construction. We also spotlight a new law school clinic that provides free, transactional business law services to entrepreneurs, nonprofit organizations, and community groups in the neighborhoods surrounding Columbia. In addition to these stories, we include a listing of services provided by Columbia University in the surrounding community and information about government representation for the local community.