Sculpting Music and Memories: How Bayeté Ross Smith Empowers Community Through Art
Multidisciplinary artist Bayeté Ross Smith uses his art to empower local communities and spark important conversations. 
September 14, 2023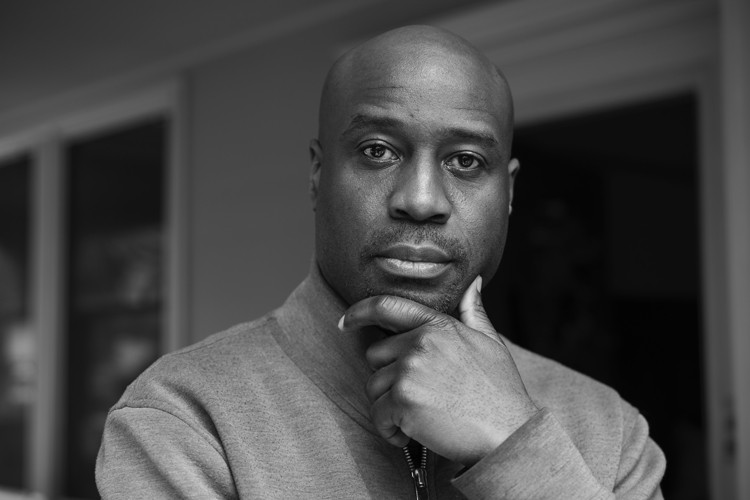 Enter the Lenfest Center for the Arts on Columbia's Manhattanville campus and you'll be welcomed by Bayeté Ross Smith's vibrant boombox sculptures, resonating with the sounds of hip hop freedom music and spoken word. 
Debuting at the Wallach Gallary's Uptown Triennial exhibition, "Got the Power: Hip Hop 50 Boombox" is the latest addition to Ross Smith's "Got the Power: Boombox" sculpture series. From Ethiopia to Kyiv, Smith has crafted site-specific boombox sculptures that not only play music cherished by community members, but also feature recorded clips of their memories, as a powerful symbol of cultural empowerment. In his latest series of sculptures, Smith pays homage to the Harlem community and hip hop (on its 50th anniversary) while highlighting the controversial history of the sugar and cotton industries and their impact on the world today. 
Smith's multidisciplinary approach to art has led him to create dynamic works for global art, culture, news, and academic institutions, including Columbia Law School where he's finishing up his tenure as their inaugural Artist-in-Residence.
As we near the conclusion of the Uptown Triennial 2023 exhibition at the Wallach Art Gallery, Columbia Neighbors spoke with Ross Smith to learn more about his creative journey tracing his artistic roots in New York to his global artistry.
Was there an experience that first ignited a spark to create art or were you always creative?
My father was a jazz musician and my mother has her PhD in education, specializing in early childhood development, so I was always encouraged to be creative. Growing up, I would hear my father in the background rehearsing his music and experimenting freely with jazz. There'd be a lot of fluidity in how he played, which was really inspiring. I'd also be taken to gigs where my father, uncle, cousins, and grandfather would be playing. It's something I normalized as a kid that I now realize was very special. 
You began your career working in journalism. Tell us about that and how it might influence you today.
I started off as a photojournalist working for outlets like the Philadelphia Inquirer, the Charlotte Observer, and the Tallahassee Democrat.
When I was a young photojournalist, my mentors told me that a career as a staff photographer was not going to be sustainable because of the changes in the industry, and I realized I needed to develop a broader skill set. So I went to art school and started doing a lot of interdisciplinary work and merged my background with the fine arts.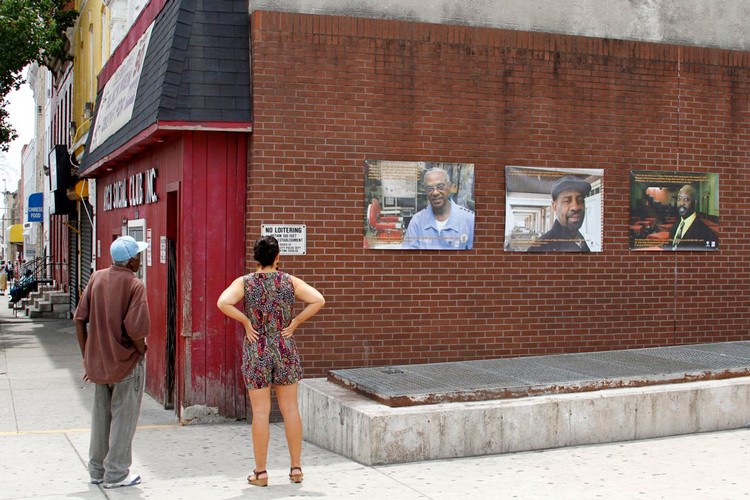 Now I think that I approach artwork differently from artists who are strictly fine art trained. I focus on the daily lived experience and how my art can be of value. I think about the stories and themes that are important for our society to reflect on and how art can be a conduit for that. 
Music plays an important role in your work. How has music served as a creative catalyst for you?
I grew up on the Upper West Side during the 1970s when the city was in rough shape. There weren't nearly as many resources for kids as there are now, particularly around art and music programs. A lot of us figured out life through the artistic expression that came out of hip hop. That was important in helping us create something that was striking enough to catch the attention of the outside world. It helped us proclaim our value at a time when we were not considered valuable because of our race, ethnicity, and where we came from.
I experienced how hip hop evolved in the 1970s and 1980s before it went commercial. By the 1990s, I was inspired by how versatile the artists in the genre were becoming. They'd not only be great MCs, but graffiti artists, DJs, producers, and dancers. It showed me that there are different ways to express yourself which was very influential to how I approach my art.
Tell us about the 'Got the Power: Hip Hop 50 Boombox' sculptures that are displayed at the Wallach Art Gallery.
"Got the Power: Boombox" is a site-specific series that I've been doing for over 10 years. The sculptures play a soundtrack made up of local community members' favorite songs and their oral histories. The latest sculptures at the Wallach, "Got the Power: Hip Hop 50 Boombox," are a response to the erasure of Black history and a counter to white supremacist narratives.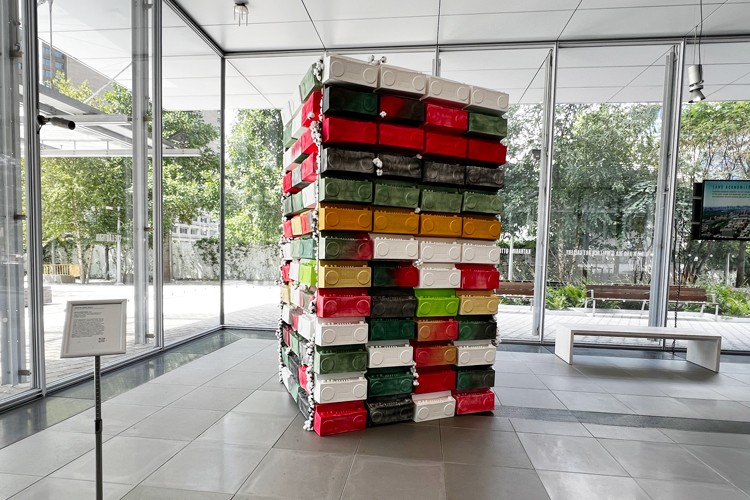 One thing I wanted to emphasize is that people don't talk about how hip hop is a counterculture. So, the soundtrack that plays is a series of Pan-African and Pan-American hip hop freedom songs that illustrate that essential function of the genre as a global freedom and liberation movement. At this point, everything in the world has a little bit of hip hop in it, but I wanted to give light to the obscured, erased, and under-discussed parts of the genre. 
"At this point, everything in the world has a little bit of hip hop in it, but I wanted to give light to the obscured, erased, and under-discussed parts of the genre."
The boomboxes are made out of sugar and cotton, two of the largest cash crops of Western colonialism. I used these materials to draw a parallel with the hip hop industry, which has generated billions, but has produced a very minimal amount of intergenerational wealth for Black communities. Interspersed between those songs—curated in collaboration with Harlem residents—are historians talking about the history of the sugar and cotton industries and how those industries directly impact the way we live today. 
This is an ongoing project, so if you go to the website you can see an archive of the different sculptures and mixtapes that are being made. This is a public engagement project so I wanted there to be a space for people to interact with the work directly, from contributing an oral history or a song to attending public events happening around the sculptures. 
What was it like to work with local community members to make the soundtrack for "Got the Power: Hip Hop 50"? 
I was amazed by how thoughtful everyone was when I asked them to contribute. I didn't have to explain the concept much to them—people just got it. So many people said the songs they chose inspired them to feel empowered and free. A lot of people also talked about being a part of a historically great community that has been empowering for Black people around the globe, but also the pressures of outside forces coming in to destroy the community. I heard this feeling from people of all generations, from teenagers to senior citizens.
In your view, what is the role of art in educational institutions like Columbia Law School?
Art and media give us new ways to visualize and discuss concepts in academia—especially in law and policy—and can unearth a lot of the complexities underneath the surface.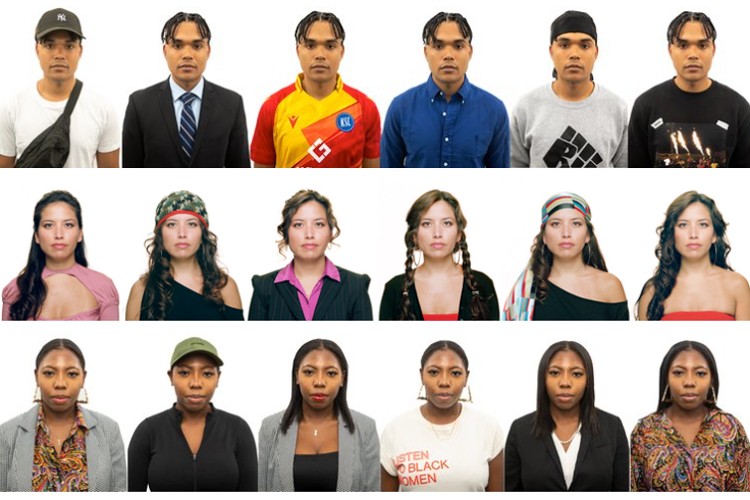 "Our Kind of People" is a photo series that challenges the viewer to think about their own prejudice and how they can project narratives onto people based on their appearance. I took that concept and brought it to Columbia Law School in an interactive film installation called "West Fourth Street," which is based on a true story of someone's encounter with the police. In the film, the storyteller describes their encounter, but you can change their identity to be of a different age and background. The idea is to show us how our perceptions of truth in their testimony can change with their identity. It pushes us to rethink how we frame truth, accuracy, and testimony, which I thought would be valuable at Columbia Law School.
My work with Columbia Law School is part of a larger program that I'm developing called "The Art of Justice." In collaboration with other artists and musicians, we're planning to bring our art into other schools and legal spaces to help professionals in the field create a more nuanced and in-depth understanding of the world and their work.
Do you have any advice for aspiring artists in the local community?
First and foremost: keep going. It can take a long time to have success and you have to be open to the idea that it can take on a lot of different forms. You can define it for yourself. Consider diverse revenue streams like teaching, taking on commissions, exhibiting, journalism, and selling artwork. These are what I do to have a practice that's sustainable. Figure out how to be business-minded because you need to be able to live your life, enjoy quality time, and experience the world, all while staying true to your work. 
---